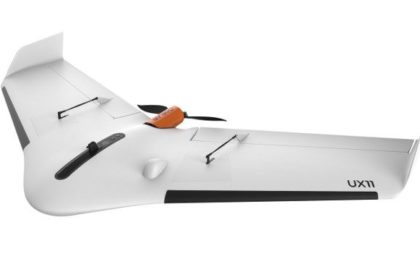 As part of the collaboration and training of Instadrone operators on S4 flights on the DELAIR DT26, we have acquired a first copy of the fixed mapping aid UX-11.
Delair engineers worked hand in hand with their subsidiary Gatewing to offer a system that is unique in the world and the best in its class: the BTOL.
For take-off the UX11 drone launches with great simplicity thanks to a single hand. Its climb slope is impressive, allowing the machine to take off from constrained places.
Unique in the world, the UX11 poses like a bird! The descent incidence of 30° allows a fair and short landing. An altitude laser sensor controls braking and rounding strong and close to the ground for a short and safe landing.
The UX11 is very productive thanks to its 59 min flight endurance combined with a long flight range. No need to sacrifice resolution for productivity when you can have both. In a single flight, you can map 120 ha at 120 m and get a 1.7 cm GSD.